| | | |
| --- | --- | --- |
| Christie R. Jacobson | | PARTNER |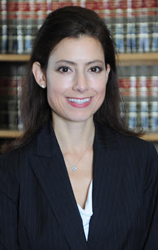 CHRISTIE R. JACOBSON received her Juris Doctor Degree from Hofstra University School of Law in 2006 and B.A. (Magna Cum Laude, Phi Beta Kappa) from the Hofstra University Honors College in 2003, where she majored in English & American Literature. She is admitted to practice law in the State Courts of New York and Federal Eastern District Courts of New York. During law school, she studied under the "Commissioner Monica Gollub Memorial Endowed Distinguished Academic Scholarship in Law," and interned with the New York State Attorney General's Office as well as the Hofstra University Office of Legal Affairs. She served as a judicial intern for the Honorable Joanna Seybert of the Eastern District of New York, and the Honorable Peter B. Skelos of the Appellate Division, Second Department. Christie became associated with the firm in 2006 and became a Partner in 2018. Christie handles administrative litigation, including appeals to the Commissioner of Education on matters including residency, student discipline, transportation and interpretation of the Education Law. She also trains and advises clients regarding various legal mandates. In addition, Christie routinely issues legal updates to advise our clients about new laws, regulations, court cases and administrative decisions that affect school districts.
Christie is regularly called upon to speak on legal issues for various organizations, including the New York State School Boards Association ("NYSSBA"), Nassau and Suffolk Bar Associations, Long Island Association of School Personnel Administrators ("LIASPA") and the Suffolk Association of School Business Officials. On June 4, 2017, Christie spoke at the annual School Attorney Law Conference presented by the New York State Association of School Attorneys ("NYSASA") in conjunction with NYSSBA. She will present again at the 2018 School Attorney Law Conference. She has served as an educational presenter at the 2013, 2014 and 2017 NYSSBA Annual Conventions, and will present again in October of 2018. She also presented "The Contours of Student Free Speech Rights" at NYSSBA's 2018 Policy Workshop on March 27, 2018.
In May of 2015, Christie was re-elected for a three-year term to the Board of Directors of the Nassau County Bar Association ("NCBA"), which is the largest suburban bar association in the United States. She is Chair of the NCBA Women in the Law Committee. She is also a member of the New York State Bar Association and Education Law Committee of NCBA.
She served as both Chair and Vice-Chair of the NCBA Education Law Committee for several years. Christie's article, "Solutions to Five Common Problems Involving Unpaid Leaves of Absence," was featured in the June 2014 edition of On Board, the statewide newspaper published by NYSSBA. She published several other articles in the Nassau Lawyer, including: "Who is an 'Applicable Large Employer' Under the Affordable Care Act?" (Jan. 2014); "Speech in the Digital Age: What Every Parent and Public School Official Should Know" (Sept. 2010); "Workers' Compensation: Controlling Costs and Employer Obligations" (Jan. 2010); and "Family Law May Clarify Education Law When Enrolling a Child in Public School" (Feb. 2009). Christie was also featured in New York Magazine's "New York Women Leaders in the Law" in 2016 and 2018.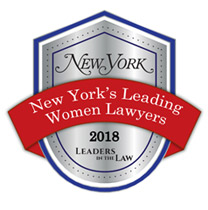 « BACK